Graphic Design
We were originally established in 1988 (as Armorel Productions – see right), providing design, print and publishing services.  In-house and externally we have access to some excellent designers, photographers and artists.
Does your company, club or group need a refresh of style? New promotional items, advertising or website?
Printing
We deliver printing services for leaflets, booklets, guide books, greetings cards, postcards, business stationery (business cards, letterheads, compliments slips, etc.) calendars, notelets, note pads and many other essential items.
Video
We have recently added video work to our services for local organisations and businesses.  Video available on DVD, mp4 or uploaded to your own YouTube channel (ideal for quick distribution).
Publishing
We work as publishing agents for a number of local artists, authors and photographers, so if you have work to be published, call us and we will offer our advice and expertise.
Our publishing experience is in both hard-copy print for short or long run, and electronic e-book (Kindle, iBook, pdf, etc.) format.
Contact us now using our 'contact' tab above for advice on all aspects of your publishing, design and print requirements, prices and a free quotation.
Postcards
We are supplying picture postcards currently to Ledbury, and with plans to extend this service initially to other local towns and organisations.  This could be an excellent way to promote your village, business, club or group.  Contact us for more details and a quote.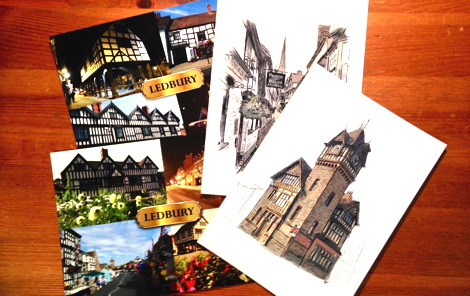 Postcards for Ledbury, Herefordshire
Background
Aloe Malvern Design started life as Armorel Productions in 1988, based in Birmingham and used the then brand new Desktop Publishing (DTP) software, PageMaker, running on Apple Macintosh Plus computers. We had our own offset printing facility, and also sub-contracting to an excellent offset printer in Smethwick.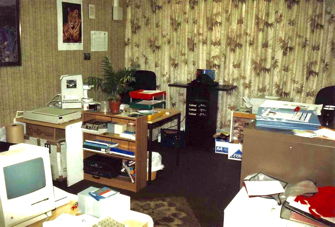 Armorel Productions' first office in Corporation Street,
Birmingham, September 1988.
Today we still use Apple computers with in-house laser printing, using sub-contracted offset and laser printing when appropriate.  We engage the services of a number of local photographers for both general and specialist work, along with freelance designers.
Robin Hiseman & Anita Griškjāne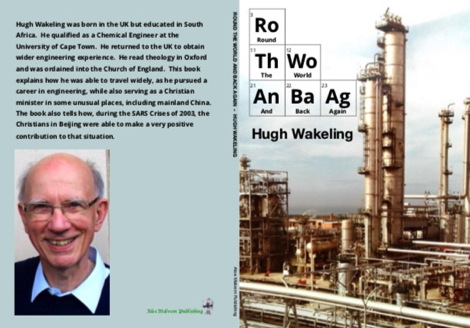 Book published for Ledbury author, Hugh Wakeling